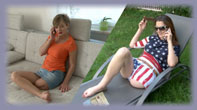 In this clip Neli talks over the phone with her friend Christiane. They talk about daily life situations of the last days.
They wear many different outfits. You can see them in hotpants, with forearm and underarm crutches, wearing nylons, with upfolded jeans, several dresses, short skirts, a lot of different shoes and much more.
This videoclip is 56 minutes long.
Price: 63€
other currencies are accepted and the rates are converted by Paypal