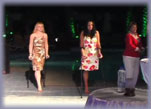 This clip shows Natalie and myself preparing for a long night out in a club. We do our make up and polish our nails and we prepare for a dancing night. Unfortunately it was to dark to capture long dancingscenes.
We wear summerly nice short dresses and matching high heels. A lot scenes show us in underwear.
This videoclip is 24 minutes long.
Price: 27€ Price reduced!!!
other currencies are accepted and the rates are converted by Paypal